Filter by Subcategory
High School Completion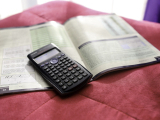 Get Ready for College Statistics
with Trudy Martin

May 26, 2021 at 2 pm

, runs for 10 weeks
Prepare for college statistics! Get a head start on learning the terms, symbols, stats software, and graphing calculator. This course is for students who have placed into college statistics or those who are retaking the class.
Class is delivered on Zoom. Delayed view is available on an individual basis. 
Students will need a laptop, tablet or desktop (not a phone) with a camera and microphone, as well as high-speed internet. A TI-83 or 84 calculator is recommended but not required. No textbook to buy. Outside homework will be given to supplement online instruction.  
Students will be asked to provide recent assessment scores, which can be taken with us. 
Have questions before signing up? Email Trudy--tmartin@rsu24.org
Full Course