Filter by Category
Math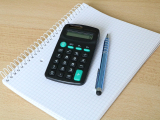 Online Registration Unavailable
College Transitions Math
with Trudy Martin

Oct 5, 2021 at 8:30 am

, runs for 12 weeks
Complete an intensive brush up of basic skills with an introduction to Algebra. Review fractions, decimals, percents, and basic algebra for college math. Learn to use online sources for supplementing your math knowledge. Practice math online, including preparing for the computerized Accuplacer exam. Gain an understanding of problem solving techniques and processes. Relieve your math anxiety!!
Please call us to register:  207-422-4794.
Get Ready for College Statistics - Online
with Trudy Martin

Oct 6, 2021 at 2:30 pm

, runs for 10 weeks
Prepare for college statistics with our unique online course! Get a head start on learning the terms, symbols, stats software, and graphing calculator. This online course is for students who have placed into college statistics or those who are retaking the class. Class will meet weekly on Zoom. Delayed viewing is available on an individual basis. Students will need a laptop, tablet or desktop (not a phone) with a camera and microphone, as well as high speed internet. Ideally, students will either have a TI-83 or 84 calculator to use or purchase the online software package. Outside homework will be given to supplement online instruction. Students should expect 2-3 hours of homework a week outside of class. Students will be asked to provide recent assessment scores, which can be taken with us.
Have questions before signing up? Email or call Trudy: 422-4794 or tmartin@rsu24.org
Algebra 1 - Online
with Trudy Martin

Oct 14, 2021 at 2:30 pm

, runs for 14 weeks
Please contact our office at 207-422-4794 to begin this class. You may begin this class later than the dates published.
Looking for an Algebra 1 course and credit? Algebra 1 is designed for credit towards high school diploma and for college admission; the class will also help you prepare for college-level math courses. A once-a-week online class meeting and online homework make this an intensive course. Students will work on writing and solving equations, coordinate graphing, factoring, systems of equations. Expect to spend 2-3 hours a week doing coursework. Students must complete an intake, as well as participate in an online learning orientation when enrolling. Students must show academic readiness by completing required assessments.
Technology requirements for the class are a laptop, tablet or desktop (not a phone), camera, microphone and hi-speed Internet.
This class is free to students earning their diploma through RSU 24 Adult Education.