Filter by Subcategory
Personal Enrichment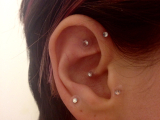 Ear Acupressure Point: An Introduction
with Jean Guyette

May 13, 2020 at 6 pm
Locating this area of the ear, the Shen Men acupressure point, can result in a feeling of relief and a lessening of tension and anxiety. It may also help relieve physical symptoms, such as headaches and sleep problems. Ear acupressure is one tool you can keep in your self care tool bag. Ear acupressure (also called "auricular therapy" or simply "ear treatments") is virtually free and can help you stay healthy. Jean volunteers her time for the non-profit organization, The National Acupuncture Detoxification Association, www.acudetox.com.
'Choux't Me Now!
with Sharon Hill

May 16, 2020 at 9 am
Join us as we demystify the making of the elegant and light choux pastry. Using this simple pastry dough, you will create and fill several French desserts: cream puffs, eclairs and a fancy creation called a religieuse. Please bring, if you have them, pastry bags with large plain and star tips and  containers to take some home with you.
Will run
Sewing 101: Get to Know Your Machine
with Sharon Hill

May 20, 2020 at 6 pm
Do you have a sewing machine that you aren't on good terms with? Maybe you've inherited one and don't know the first thing about it. Bring your machine to class and become familiar with its operation and some of its attachments. Bring your machine with its manual (check online), any attachments and an extension cord. We'll get you up and running on it. If there is time, we'll stitch some simple seams on fabric which will be provided.
Full Course