Filter by Category
Tools and Trades
Chain Saw Safety for Women
with Tina Scheer

Apr 28, 2019 at 9 am

, runs for 1 week
Local logging sports athlete/promoter "Timber" Tina Scheer (Great Maine Lumberjack Show) and arborist Michelle Braley will teach you everything from starting the saw, operating it safely, fixing simple problems, filing a chain, cutting a small tree and de-limbing it, cutting your own firewood and doing it for yourself with confidence! Then it's into the woods to practice cutting safely with guidance from your instructors. This is a hands-on class. Expect a FUN atmosphere with expert knowledge! Students may bring their own chainsaw and safety equipment if they have them. Otherwise, equipment will be provided. Please bring a bag lunch and drink to class.
Full Course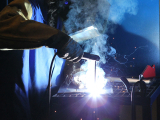 Registration Unavailable
Welding 201
with Dan Ferden

Apr 24, 2019 at 6 pm

, runs for 8 weeks
Newly designed for those who have successfully completed our introductory Welding course and would like to further their skills. We focus primarily on Stick and T.I.G. welding in all positions and cover topics such as the strengths of materials, how heat affects these and the best ways to properly prepare your materials. This will be a fairly fast paced and demanding course with the understanding that it can prepare students who are interested in pursuing a career or formal education in welding, as well as provide the skills for one to confidently tackle their own fabrication projects. Students need to wear long pants, long-sleeved shirt and work shoes.
Prerequisites: Intro to Welding within the past 3 years or prior experience with instructor's permission.