Filter by Category
Music & Dance
Registration Unavailable
Guitar - Advanced Beginners
with Kevin Campbell
We will continue to build on the concepts of chord structures for songs from many different styles of music. The class will also introduce students to the basics of melody and solo line playing over the music on any chosen song. This class is for those who have previously taken a beginner guitar class from Mr. Campbell or any other guitar teacher.
If you are unsure, please contact us, and we will help to appropriately place you in the best class for your level. Students should bring their own guitar to class.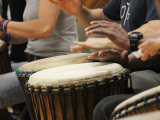 Registration Unavailable
Drumming & Percussion
with Kevin Campbell
Master drummer/multi-instrumentalist Kevin Campbell will teach traditional West African and South American rhythms on a wide variety of drums and percussion instruments, ie. djembe, dunun, gourd shakers and balafon. In addition, he will combine specific hand drumming techniques with accompanying songs and percussion complements. All instruments provided and participants are encouraged to bring their own. All levels of experience and non-experience are welcome.
Guitar - Beginners
with Kevin Campbell

Apr 28, 2020 at 5:45 pm

, runs for 6 weeks
Learn the basic elements of the six-string guitar and be introduced to chords, various strumming styles and the keys to playing along with your favorite music. Kevin uses quick learning tips to have fun learning how to tune the strings and play basic chords from different musical genres. The class is for beginners, children and adult guitar enthusiasts. Students must bring a six-string guitar to the class.
Will run