Filter by Category
Exercise & Outdoor Fun
Restorative Yoga 12/17
with Karen Dove

Dec 17, 2017 at 3 pm

, runs for 1 week
Prepare yourself for deep relaxation. Restorative Yoga works to heal your body emotionally and physically. In Restorative Yoga "support = release" of muscle tension & mental stress, giving your body the opportunity to restore and refresh. Class is about slowly breathing into reclining yoga postures supported by bolsters, blocks, blankets and pillows. Your instructor will provide you with most of the props and guide you into setting up for each posture, assisting as needed to get that "ahhhhhhhh" comfort & relaxation. Participants will need to wear comfortable clothing; bring 2 throw pillows & a throw/blanket; eye pillows are available and may be purchased for $5. Relax...refresh...restore.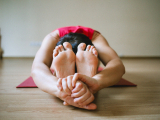 YOGA SUNDAY!
with Karen Dove

Dec 17, 2017 at 1 pm
Need an extra boost for your Yoga practice? Is Sunday afternoon just your best time? This can be just the thing! Warm-up, open joints and lengthen muscles to prepare for some of your favorite or challenging advanced beginner-intermediate postures. Honor yourself and enjoy! Drop ins welcome @ $8/class. Bring a mat and wear comfortable clothes.