Filter by Category
Health & Wellness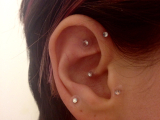 Ear Acupressure Point: An Introduction
with Jean Guyette

Apr 4, 2018 at 6 pm

, runs for 1 week
Locating this area of the ear, the Shen Men acupressure point, can result in a feeling of relief and a lessening of tension and anxiety. It may also help relieve physical symptoms, such as headaches and sleep problems. Ear acupressure is one tool you can keep in your self care tool bag. Ear acupressure (also called "auricular therapy" or simply "ear treatments") is virtually free and can help you stay healthy. Class members will have the opportunity to view a demonstration of the 5-point NADA Protocol by a Licensed Maine Acupuncturist. Jean volunteers her time for the non-profit organization, The National Acupuncture Detoxification Association, www.acudetox.com.
Reiki II
with Heidi Eagleton

Apr 7, 2018 at 10 am

, runs for 1 week
Students will receive Level II attunement, instruction and the Reiki symbols which allow the practitioner to connect more deeply to the universal energy, as well as draw on the qualities that the symbols represent. This includes the ability to provide distance Reiki, or sending healing energy to individuals wherever they may be. Requirements are the completion of Reiki I and to read Reiki II from Diane Stein's book "Essential Reiki" or the like. Please bring something to drink and a lunch. Kitchen available! Any questions please feel free to call Reiki Master Heidi Eagleton at 963-7239. Class size is limited to 3. Looking for Master Level 3? Call us at 422-4794.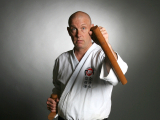 Women's Self Defense Workshop
with Louis Kiefer

Mar 6, 2018 at 6 pm
Louis Kiefer, Jr., is a third degree black belt, Certified Instructor, Okinawa Shorinryu Matsurmura Seito Karate and Kobodo Federation. He believes everyone should have some basic self-defense strategies to survive an assault.In this workshop you will learn:
Avoidance, de-escalation and escape techniques
Mental and environmental awareness
Quick and powerful maneuvers to protect yourself
Personal, home and vehicle safety precautions
Understanding what attracts potential attackers
Use of the environment around you for protection
Basic self-defense skills to help survive a violent attract
Confidence in self-protection and preservation
Class participants should dress comfortably with good footwear. This class is open to women of all physical fitness levels. Techniques will be scaled and taught to individual abilities and limitations.